Paula has fallen in love with competition obedience and loves teaching her competition students. Paula has 20+ obedience titles on her bluetick coonhounds, many breed firsts, as well as 10+ High In Trials and over 20 High Combineds. Jeb completed his OTCH (a first for Idaho and coonhounds) and competed successfully at the Nationals two years in a row. He won the Hound Group both years and earned his way to the 2nd day of competition as well with a 3rd Runner-up placement in Dec 2006!! Paula's Bluetick Suzie completed her OTCH as well!!!
Paula's Students have earned CDs, CDXs, UD, UDX and HITs!!
See Brags link for more title info!
2015-2016:
Paula and Ziva earned their IPO1, AKC UD, UKC CD, CDX with HITs and HC awards! Ziva also earned her RO1, RO2 and RO3 Rally titles in UKC
Paula's students earned 3 CDs, 3 BNs and a GN! All by young dogs and two Novice A handler/dog combos!
2013 and 2014:
Paula and Ziva earn their BN, CD and CDX with placements!
October 2014 Paula's student Karla and her GSD, Timber earned their UD!
2007:
Aussie - CD, all placements, HIT!
2008:
Lab - CDX, all placements!
Lab - CDX;
Aussie, Border Collie and Giant Schnauzer - CD,
All three earning placements!
Aussie - High In Trial (HIT)!
2009:
Lab - UD in 5 trials, scores in the 190's, 1st place each time!
Aussie - CDX in 3 tries, scores in the mid-190's - all 1st places (18 mo old dog!)
Giant Schnauzer and Border Collie - CDX (also nice scores and placements)
Bluetick - UDX2, UDX3, OM1, High Combineds (Paula's Suzie)
2010:
Weim, Lab Mix - CD (Novice A)
Weim - CDX (Novice A)
Bluetick - OTCH, OM2, High Combineds, High In Trials (Paula's Suzie)
2011:
Aussie - UD
Lab - CD, UDX (Nov A - nice scores and placements!)
Lab mix - CDX (Novice A Dog)
German Shepherd - BN, CD (Paula's Ziva)
Paula is not limited to one training method - she is able to adjust to what's best for you and your dog.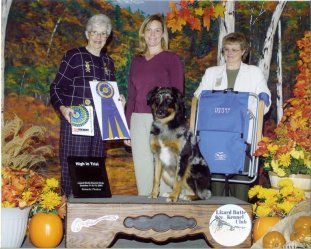 Tiffany and Jaxon - High In Trial
Boise, Oct 12, 2007
---